One in five ethnic minority Britons think written and broadcast news should use the word in full
The BBC came under fire in 2020 after using a racial slur in full as part of a report into a racially-aggravated attack in Bristol. The victim's family supported the BBC using the word to convey the seriousness of the assault. However, for its efforts, the BBC earned over 18,000 direct and 384 Ofcom complaints.
Now, new YouGov research among ethnic minority Britons looks at how people think racial slurs should be quoted in written and broadcast news media.
While all broadcast outlets will have differing editorial guidelines, ethnic minority Britons tend to think slurs should be quoted as a euphemism, using such phrases as "the N-word" or "P-word" (28%) in TV and radio news.
At the other end of the scale, 20% think television and radio reporters should use the language in full, without any sort of censorship or alteration.
How should TV and radio news report the use of racially offensive language?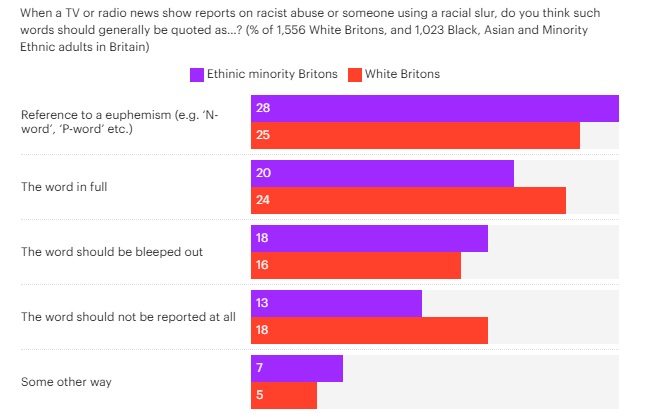 A similar number of ethnic minority Britons (18%) think racial slurs should be bleeped out of broadcast reports. Another 13% say such words should not be reported at all.
Britons of Indian descent split on how broadcast news should quote slurs, 24% to 24% between using the word in full or a euphemism. Those from Pakistani backgrounds tend to think slurs should be replaced with euphemisms (34%), and 24% bleeped out.
Should newspapers quote racially offensive language?
In 2015, the New York Times faced a similar dilemma to the BBC. In a podcast highlighting how slavery still casts a long shadow on life in the US, then-president Barack Obama had used the N-word – so should they quote it in full? Editors ultimately decided to print the word in their report to not detract from the president's message.
Approaching one in four ethnic minority Britons (24%) think written news should report slurs using the initial letter and symbols such as dashes or asterisks.
Another 20% think newspapers should in general not censor these words and report them fully, the same proportion as those who think broadcast news should report it in full.