A number of NATO specialists have been recently carrying out intensive works on the determination of the possible intervention of Russian armed forces in Ukraine.
According to some of them working on the military strategy, the Russian army, in the third phase of its possible military action in Ukraine, will launch a serious attack on Kiev from the northern direction. In this case, Russia will force Kiev to sign the capitulation agreement, and Moscow will create the puppet entity in the territory of Ukraine serving its imperial interests.
At the same time, British specialists noted that the Russian army was prepared to launch a large-scale war to occupy Donbas and Luhansk regions of Ukraine, which was a one of the strategic goals of Russia to create the corridor through eastern Ukraine to link Crimea with the mainland of Russia.
While the escalation of tension in the region rise up by gathering the troops and military equipment at the border in both sides, the United States and its European allies are seriously determined to involve in the conflict
The US President Joe Biden said in his speech that he was in constant contact with US allies in Europe. As well, he noted that he was working on a set of initiatives to make it difficult for Russia to carry out the possible invasion of Ukraine. Moreover, the US Secretary of State Antony Blinken stated that Russia would face the most serious consequences in terms of the intervention of its armed forces in the eastern territories of Ukraine.
Further clarifying the issue, Eurasia Diary conducted an interview with Marc Finaud, head of 'Arms Proliferation' and 'Diplomatic Tradecraft'Geneva Centre for Security Policy.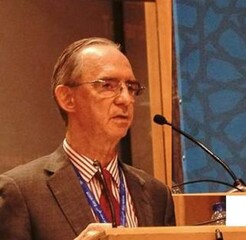 Marc Finaud is a former French diplomat who has been seconded to the Geneva Centre for Security Policy (GCSP) between 2004 and 2013 and now works for this international foundation, where he trains diplomats and military officers in international and human security, and conducts research in those fields.
- Mr Finaud, how do you assess the predictions of NATO experts on Russian aggression and future security of Ukraine? To what extent the reports of NATO on Ukraine reflect the reality?
- Some of these reports about Russia's deployment of military forces along the Ukrainian border are based on observation and open sources. It is not however certain that Russia will go beyond such a deployment and conduct active military operations against Ukraine, even less occupy its territory. These current actions may consist in gesticulation or pressure against Ukraine and strong messages towards NATO, just like deployments of NATO forces close to the Russian border have been carried out to deter Russia and reassure NATO member states fearing Russian actions. Nevertheless, the risk of incident and escalation is high and requires communication and dialogue to lower tensions.
- Do you think that one of the main strategic interests behind the possible invasion of Russia of Donbas and Luhansk regions of Ukraine is the creation of the corridor through eastern Ukraine to ensure the connection between Crimea and the mainland of Russia?
- If this is true, such an objective would be short-sighted because there is no military solution to the Ukraine conflict. The Minsk Agreements include provisions for confidence-building measures and safe delivery of humanitarian aid as well as withdrawal of all foreign forces. Russia's annexation of Crimea has not been internationally recognized, and any further breach of a sovereign country's territorial integrity by Russia would certainly be counter-productive even for Russia's security.
- Please tell us, to what extent the United States and its allies in Europe would be ready to retaliate against Russian intervention in Ukraine? What kind of severe political and military measures will the US and European Union carry out against Russian aggression?
- Priority must absolutely be given to diplomacy, even if tough rhetoric can be expected from either side to build up coalitions and impress the adversary to deter any form of escalation to military confrontation. NATO can feel confident that it now possesses conventional superiority over Russia, but in such a tense situation, any incident can escalate even up to the use of nuclear weapons, which would be a catastrophe for everyone. US, EU, or NATO targeted sanctions against Russia could be a tempting alternative, but experience has shown that sanctions rarely succeed in fulfilling their goals.
-Do you think that the military attack on Ukraine in any way could swamp Russia in the catastrophic political and economic failure?
-Yes, it would certainly backfire. Russia would be isolated internationally as the Soviet Union was when it invaded Afghanistan. It would lose any legitimacy in criticizing failed US interventions in Afghanistan, Iraq, Syria, etc. It would suffer severe economic consequences and even military losses in case of escalation to a regional conflict.
Yunis Abdullayev