North Korean leader Kim Jong Un has made a rare public appearance alongside his daughter amid growing speculation the country is preparing a large military parade to showcase its nuclear weapons programme.
In just her fourth known public appearance, Kim Ju Ae and her father visited troops and attended a military banquet to mark the 75th anniversary of the country's army.
The visit came amid speculation North Korea is preparing to stage a massive military parade in Pyongyang to show off a weapons programme which continues to stoke concern among its neighbours and in the US.
Mr Kim's daughter is believed to be aged nine or 10 and is thought to be the second of the leader's rumoured three children.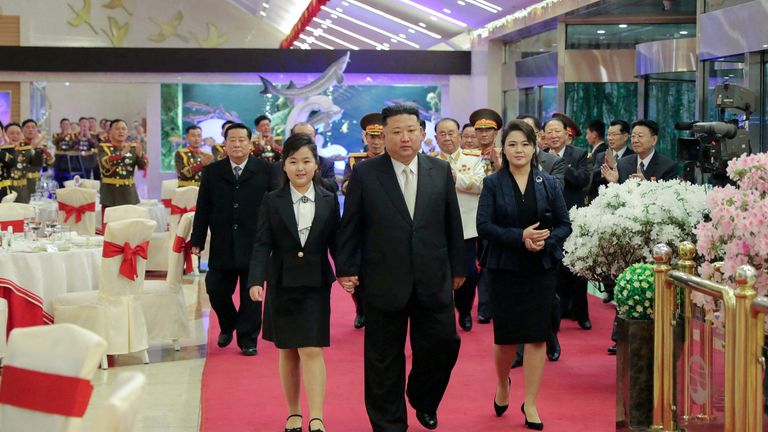 Some experts believe Ju Ae is being primed to become her father's successor as leader of the regime.
She attended a flight test of an intercontinental ballistic missile in November and has previously accompanied her father to a meeting with military scientists and a weapons inspection.
North Korea's official Korean Central News Agency said Mr Kim visited the lodging quarters of the Korean People's Army's general officers with his daughter.
He later gave a speech to troops at a banquet, praising them for maintaining the "strongest army in the world" despite external difficulties.
State media photos showed military officials applauding at the banquet, which appeared to be held at Pyongyang's Yanggakdo Hotel.
Mr Kim and his daughter dressed alike in black suits and white dress shirts and held hands as they walked down a red carpet alongside the leader's wife, Ri Sol Ju.
The visit came a day after Mr Kim presided over a meeting with his top military officials and called for an expansion of combat exercises.
It is being seen as escalating an already provocative run in weapons demonstrations in the face of deepening tensions with North Korea's neighbours and with US officials in Washington.